CNC machine turning services and parts.
At CNCxpress we utilize a wide variety of precision CNC turning machines, offering superb versatility and fast, efficient production.
The precision cnc turning equipment at Cncxpress is designed to deliver extreme accuracy, with tight tolerances and outstanding consistency for complex designs.
We have CC machine turning lathes with turning capacities up to 3" in diameter through the spindle, 24" swing, and 2. 5" bar feed capacity.
Our CNC lathes use live tooling to perform secondary milling operations in the same setup, producing fully-machined components with short lead times. This ensures your machine machined parts are produced at the best price available.
Our three and four axis screw machine uses multiple live tools to complete precision CNC turning projects with maximum efficiency.
CNCxpress array of precision CNC machinery enables us to perform a broad range of services.
Our precision cnc turning lathes are ideal for r&d work, prototypes, and short runs. In our workshop we have equipment specially designed to fabricate highly sophisticated, complex parts.
Due to our precision cnc turning machines we offer outstanding repeat ability for high-quantity production runs. No matter the scope of the job, CNCxpress can do it all.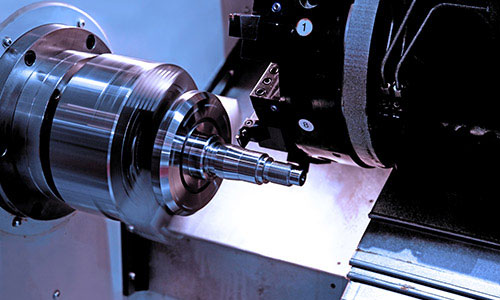 Our production staff program with Master cam and Part maker software to ensure superior precision and extreme accuracy, as well as exceptional consistency for repeated parts.
Making our precision CNC turning services perfectly suited for projects in a number of industries where exact tolerances need to be maintained. Ranging from medical and electronics, to aerospace and defense industry applications, our precision cnc turning capabilities can meet the most demanding production requirements.
CNC Machine Turning Cost Effective methods
Because it is not always easy to complete the most difficult job within the prescribed time duration.
To meet the requirements, the team is dedicated to using the latest CAD/CAM technology as well as CNC turning machines that are able to work efficiently on all size projects.
Thereby offering the best range of machined parts at very affordable rates.
The most significant thing about this team is that it is dedicated to offering the products without sacrificing essential production time. It is advised to look at the list of CNC turning services offered by CNCxpress team.
This site can offer solutions and a chance to learn about the highly convenient methods of cutting costs for CNCxpress services .
We hope our site can simplify the process, not only to save your effort but also aid you in reducing you project or part costs.
We use computer programs and systems to automate the entire process. A specific feature of our services to make it suitable for various industries.
CNCxpress offers competitive pricing for gas & oil, aerospace, military, die markers and tool makers and medical industries. This price competitiveness is a unique feature of our automated functionalities, to avoid the need of using several operators. Instead, we can use only one operator to feed our system with a range of dimensions. It will deliver accurate results at a better speed. With the finest array of turning lathes, the team explore lots of new concepts, create groundbreaking methods and deliver you the best possible results.
CNC Machine Turning factory facilities
CNCxpress production machining floor is climate controlled and our facility is reinforced to reduce all sources of vibration and provide ultra stable support for all machines.
We have taken these steps to meet the most stringent requirements of the aerospace, medical, semi-conductor, and other advanced technology industries.
Turning capabilities include contour, form, taper, and straight turning as well as single point threading and broaching.
Live tooling facilitates efficient machining of complex patterns and shapes.
Components may be machined from steel, stainless steel, aluminum, brass, and bronze in a range of alloys including difficult to machine.
CCN turning lathes have the capacity to turn parts up to 13. 75" in diameter and 24″ long.
Additional services include 3, 4 or 5-axis CNC milling, jig boring, surface finishing, and inspection with 3D specialized equipment. We routinely machine components for satellites and other high tech applications.
Most of our new customers contact us through word of mouth recommendations by current customers.
We take pride in our over 30 years of experience and reputation for quality, precision work.
Every employee from engineers to operators is responsible for upholding that reputation.
While such complex work would not be possible without our advanced machinery, it is our people and relationships with customers that set us apart. For more information about our precision CNC turning capability, see the table below, or contact us directly.
Our latest technology lathes feature engine and CNC equipment, with bar feed and large swing capacity.
Common applications of our processes include forgings, shafts, bushings, fittings, and construction equipment, but we can produce nearly any part you need.
In addition to cnc turning services, CNCxpress offers reverse engineering, cad design, and cam programming services. CNCxpress has invested in the equipment necessary for precise work, including vertical lathe, four-jaw chuck and the latest computer software.
We can work in virtually any material: alloy steels, stainless steel, brass and iron, just to name a few.
Assembly and finishing services are also available. We accept parts drawings in several digital formats: Solidworks, Autocad, step, Pdf, and. Dxf.
Contact us today and let's talk about your upcoming CNC machining project!.
Why Choose Our CNC Turning Machining Services
Advanced lathe services, as 9100/iso 9001:2008 certifications, we are a large diameter CNC turning provider that has had the opportunity to build longstanding relationships with customers from industries ranging from healthcare and pharmaceuticals to defense and the automotive and aerospace industries – we know precision.
But extensive large diameter turning and boring capabilities are just one side of why customers choose CNCxpress. When advanced, lean capabilities combine with the brand of service one expects from a truly family-run business, our customers know they've found the right large machining provider.
Whether you choose us for milling services, turning, lathe machining or any other CNC precision machining application, you can always count on CNCxpress to perform work that will exceed your quality expectations.
We adhere to the CNC machining industry's highest quality standards. We've implemented the most stringent quality control procedures in every aspect of our operation to ensure the total satisfaction of our customers.
More about CNC Turning – Vertical & Horizontal Lathes.
CNC lathe machines are also called live tooling lathes. They are ideal for cutting any symmetrical cylindrical or spherical parts.
Characteristically, a lathe spins a work piece on a vertical or horizontal axis, while a fixed shaping instrument moves around it on a more or less linear path. The act of cutting a work piece on a CNC lathe is called turning.
The turret type CNC turning center is equipped with a power turret, which can support various machining operations of the end face and the radial direction.
Through the lifting and lowering of the power turret (y-axis function), the eccentricity of the end face and the radial direction of the turned part and various processing operations.
One process turret rotation can replace another tool in the process. This is to complete complex processing steps where the number of power knives can be either more or less, depending on the size of the machine tool.
For this, the turret will occupy a larger space.
In addition to the position of the tail stock can also be added to the sub-spindle, making processing easier.
We also use many CNC lathe , such as horizontal CNC lathes, vertical CNC lathes, vertical machining centers, etc. CNC turning center and knife-type CNC turning center. It  is a tool that has multiple power knives or fixed knives in different directions on three faces.
The tool is changed by the movement of the table coordinates to complete the end, radial and eccentric car, milling, drilling and boring.
The limitation of the machining action is that the working size of the machining is in conflict with the number of tools.
The work piece is large and the tool is reduced, which is not conducive to the processing of complex processes of large work pieces. The advantage is that the tool change speed is fast, the machining time is short, and the work piece is highly efficient. The first choice for processing.
Our three and four axis equipment includes some of the largest machines available to industry today with the speed and power to push the limits of shape, size, and complexity.
We have a large inventory of horizontal, vertical, and CNC lathes that give us the ability to turn parts with dimensions of up to 152″ in diameter and 240″ in length while holding tight ±. 001″ tolerances.
We can easily move large and heavy parts throughout our facility. Whether you require a part made of a standard metal, high-performance alloy, or engineering plastic, we have the capacity to meet your requirements on specification, on time, and on budget.
We maintain a culture of quality and perform a wide range of supervised and documented test and inspection procedures at all critical stages of production.
All CNCxpress customers can be assured that no part leaves our shop unless it meets the highest standard of quality.
We also offer a range of finishing services, including painting, powder coating, and plating to meet all of your production requirements.
If you would like to learn more about the benefits of our large part turning services, request a quote today.
Some CNC Machine Turning lathes and turning centre shave either single turret CNC lathes/turning centers, vertical turret, CNC lathes/turning centres, twin spindle CNClathes/turning centres, twin turret/single spindle CNC machines, twin turret/twin spindle CNC machines, vertical ram type CNC lathes, sliding head CNC lathes and aluminium wheel turning centres.
To find out more about the different lathes and turning centres we have in our Machining work shop please ask the sales person which turning lathe will suit your product or project. We hold a large number of new lathes and turning centres in stock at any given time at our workshop.
Horizontal, Vertical & CNC Turning Capabilities best for your project or part.
There are a lot of options when it comes to which machine is best for your part or your project.
When it comes down to it, make sure that the company you are using for contract manufacturing work is fitted with a variety of cnc machines.
There isn't a single machine that can do it all. Machine capabilities, part size, and tooling requirements all play a part in machine selection, which is typically something your outsourced manufacturing vendor will be paying close attention to.
When it comes to horizontal and vertical machining, the main difference is the orientation of the spindle.
Vertical milling uses a fixed spindle and is an excellent choice for projects that require work mostly on a single side, such as sinking dies and large metal plates.
Vertical milling is often less complex internally than horizontal mills.
Horizontal milling doesn't use a fixed spindle, but instead, uses cutting heads mounted to a horizontal arbor.
Gravity also comes into play. In horizontal machines, gravity causes the metal chips to fall to the bed below, which keeps the piece clean during cutting.
The same part in a vertical turning center might have a difficulty clearing chips, which is particularly true if the top has a bowl-shaped indentation. Such an indentation can hold the chips throughout the turning process.
CNCxpress has the latest and comprehensive selection for CNC lathe machining and turning services.
To ensure the machining is economically viable CNCxpress ihas highly skilled CNC programmers and machinists, as well as horizontal and vertical turning centers.
At CNCxpress we consistently exceed our clients' precision, accuracy, and quality standards. If you have complex components with tight tolerance, high precision demands, we have the equipment, knowledge, and experience to meet your exact specifications – even if it means exceeding our industry's capabilities.
Our factory management team for CNC lathe department has been with us for 20+ years. CNCxpress, CNC lathe machines and turning centers accommodate cad/cam software systems.
Our CNC lathe/turning department typically works with diameters many size capabilities.
WE work on all types of projects for CNC machining and turning services. Taking on prototypes and production work. Whether you need precision lathe machining services, or have complex components requiring 3, 4 or 5 axis machining services, you can count on CNCxpress to meet your every need and deliver the best possible results.
Call our manufacturing engineers today to determine your CNC machining needs or to discuss the work we have completed for clients in the past (helping you see why our clients become lifetime partners after utilizing any CNCxpress service).
We can provide you comprehensive turning machining services, thanks to our wide-ranging capabilities, which are as follows: machinery axis: 2, 3 or 4, part length: 010" to 24" part diameters: tolerances: ±. 001"
Materials: brass, stainless steel, steel, alloy steel, carbon steel, aluminum, aircraft aluminum, nylon, acrylic equipment: t
Using turret lathe, engine lathe, heavy roll turning, CNC mill, horizontal mill, vertical mill, tool room lathe, CNC lathe, CNC turning center equipment capabilities:
Specialist planning and cad design, reverse engineering, CNC control, cam programming operations (processes):
Along with grooving, reaming, boring, facing, face milling, knurling, threading, drilling, parting, peripheral milling, tapered turning, hard turning, contour turning, form turning, taper turning, straight turning production volume: prototype, low volume, high volume.
For more information get a price for your CNC machine turning here.